July 25, 2012
Letters from Scandinavia #3: Along the country's spine with Sweden's John Denver
Photo above: Coffee break two hours north of Mora.
Sweden's trains don't run frequently, but they are almost spotlessly clean and mostly on time. Swedish Railways (SJ) offers services throughout the country, but it is a handful of regional companies that make the vast hinterland accessible to locals and travelers alike. Probably the best known of these regional train companies is Inlandsbanan, the inland rail. Over a distance of approximately 1.500 km, Inlandsbanan connects spine-like the mining hub Gällivare in Lapland with Mora in Dalarna from where a bus serves the major towns all the way down to Kristinehamn on the shores of Sweden's largest lake, Lake Vänern.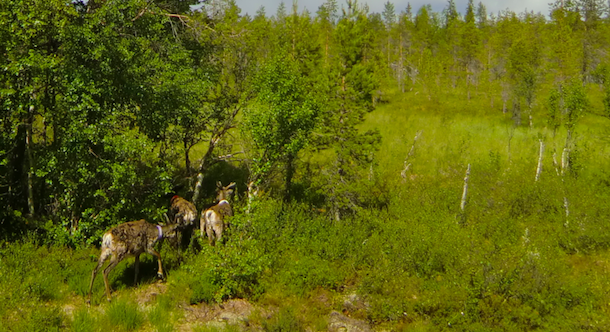 "Chances of seeing an animal while riding the train on the entire distance: 100 %" (from Inlandsbanan's information brochure).
The Inlandsbanan's sporadic frequency makes it a poor choice for commuters living between the Fjell and the coast. But unlike today's trains, that increasingly succumb to our addiction to speed, the Inlandsbanan trains have retained some of an aura of adventure and discovery that, in a previous era, made trains an alluring means of transport in the first place. To attract customers (30 % of which come from outside Sweden), Inlandsbanan offers a compelling package for the midsummer season (roughly from the end of June to the end of August): For 130 €, Swedish and international students (other adults pay 180 €) can hop on and off the train from Gällivare to Kristinehamn as often as they want and ride on 14 busses connecting cities along the Inlandsbanan track with remote hamlets in the Swedish mountains. Hikers, backpackers, and others interested in doing parts or all of the King's Trail (Kungsleden) are at a particular advantage here as several of the bus stop are right where the trail passes by.
However, travelers are well-advised not to underestimate the distances between the stops. The 700 km from Gällivare to Östersund take 16 hours. Despite the coffee and lunch breaks along the way, the company of reliable headsets and an engrossing book come in handy as the trivia (and songs) shared by Inlandsbanan's young crew quickly drop in their value from "interesting" to "superfluous." But then again, aren't stories and songs what distinguish the local from the global, and the regional from the national?
One of the songs played on the train: John Denver's "Country Roads" adapted to satisfy the distinct sense of local patriotism in Sweden's Jämtland province: